Greek Gastronomy
Gastronomy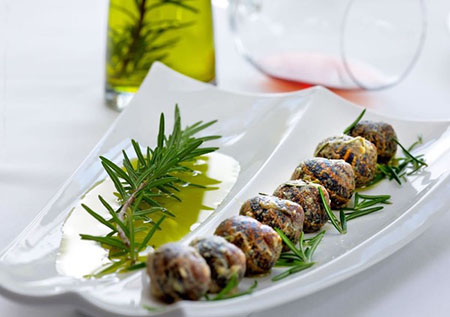 Greece and its sun-kissed isles offer a tantalizing cuisine that is fresh and fragrant, served with warmth and vitality. The Greeks' zest for simple, well-seasoned food is reflected at the table. It is an unpretentious style of cooking that makes the most of local offerings yet is punctuated by influences from the neighboring cultures of Turkey, the Middle East and the Balkans.
This land of blue skies and sparkling seas offers a variety of fresh ingredients that shape a cuisine that is both delicious and healthy. Olive trees flourish, providing the flavor-packed oil that permeates Greek cooking. Vineyards thread through the rolling hills, providing grapes that produce excellent wines, some resin-flavored. Fragrant lemon trees produce the golden fruit whose tang pervades Greek gastronomy.
The Aegean and Ionian seas are blessed with a variety of fish; seaside taverns serve them grilled, baked, fried and often whole. Good meat and vegetable combinations are endless, often embellished with the traditional Greek egg-lemon sauce, "avgolemono", or a cinnamon-spiced tomato sauce.
Last update on August 31, 2016