Athens Shopping & Nightlife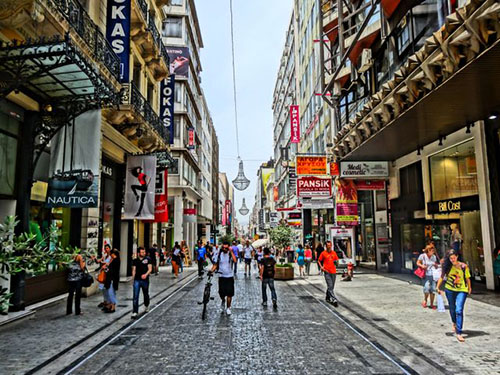 Shopping in Athens
Downtown Athens is truly a shopper's paradise. Whether you're looking for gifts to take home, additions to your own wardrobe, or just a few hours of window shopping, Athens has plenty to offer. A good place to start is Ermou Street, a wide shopping street with many well-known stores selling quality clothing, shoes, fabrics, cosmetics and much more. This cobblestoned street is closed to traffic, making it ideal for the numerous street musicians, dancers and mimes that provide free entertainment to the throngs of shoppers. Turn onto the side streets branching off Ermou and you will find smaller, independent shops carrying unique clothing, jewelry, and handicrafts.
If you walk far enough down Ermou and turn right onto Athinas Street, you enter a shopping area with a totally different feel. Shops selling delicious Greek specialties offer baklava, spinach pies, ouzo, honey and olive oil. There are whole shops devoted just to door knobs or hats or spices or buttons. Enticing smells waft out of shops full of Greek cheeses, salami, and sausages. There are many casual clothing stores where you can pick up some great buys.
Keep going for 4 or 5 blocks, and you come to the Varvakios Agora, often called the Central Marketplace, a huge covered marketplace with long halls of meat, fish, vegetables and fruits from all over Greece. Here you'll find endless local products, from delicious pistachios to dried figs to pickled mackerel to raki. Also within the marketplace are several traditional restaurants where you can sample everyday Greek dishes at low prices while you absorb the local color (and smells!).
If, as you wander down Ermou, you turn left onto Athinas instead of right, you will end up in Monastiraki Square and the entrance to the flea market. (If you want to start your shopping adventure here, you can come directly by train and get off at the Monastiraki stop.) One of the most lively areas of the city, you can meander down streets of small shops selling virtually everything. Old coins and stamps and prints, army surplus, backgammon sets, Byzantine icons, used paperback books, handmade musical instruments, worry beads, music CDs, T-shirts and trinkets of all kinds. The prices run from cheap to expensive, the quality from fake to authentic, and the style from antique to modern. When you get tired of walking, take a rest in one of the many restaurants, cafeterias or coffee shops, and enjoy a souvlaki, a slice of moussaka, a cold beer or a Greek salad. On Sundays, when regular stores are closed, the permanent shops in the flea market are supplemented by once-a-week independent merchants who display their wares on outdoor tables, adding to the excitement.
If you still have energy after the flea market, you can explore the shops in the Plaka or head in the other direction into Psirri. Whatever direction you choose will lead you to good buys and good fun.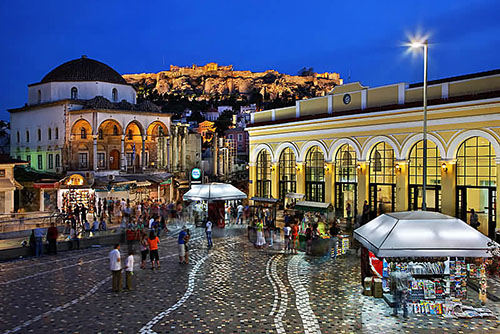 Athens Nightlife
The nightlife in Athens offers a wide variety of choices for all tastes and lifestyles. In general, things get started pretty late; after 9 pm for dinner in the city's tavernas, restaurants and bar-restaurants and after midnight for bars and clubs. Traditional Greek evenings can be spent in Plaka, Monastiraki, Thisseion or Psirri, while more modern areas include Gazi and the more upscale Kolonaki.
Last update on November 14, 2016